Information in this facility
Information in this facility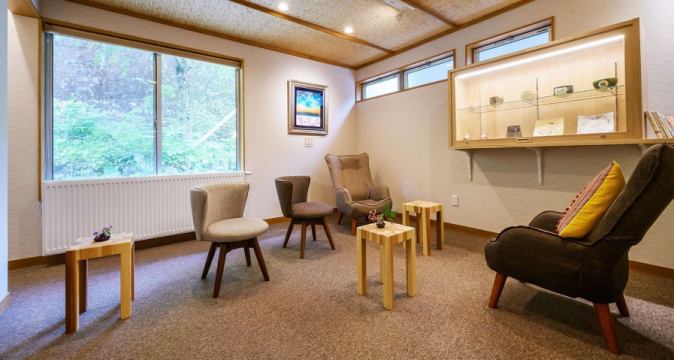 Welcome.
Please relax and relax in the quiet and relaxing time.

Lobby

Drinks will be provided at check-in.

Front desk

Check In,Check Out
Front desk operations are from 6:00 to 22:00
Customers who go to the river bath rent sandals and baskets.
Please ask us.

There are two types of rooms, "remote" and "main building".
Outside the window, you can see the scenery of the mountains that are colored in each season.
At present, you can see the flow of the Nagazasasawa River.

Both dinner and breakfast will be served at the "Restaurant (chair table)".
If you would like an early breakfast, please contact us.

| | |
| --- | --- |
| Hours Available | 【Dinner】From 18:00/From 18:30 "Breakfast" from 8:00/From 8:30 |

The scenery of the four seasons with the trees of the mountains.
The murmuring of the river, the voice of insects, the chirping of birds and the buzz of trees.
The soundless sound, combined with the beauty of the valley that varies from season to season, heals the mind and body.
If you look at the stars in the sky, you will forget the passage of time and eventually become one with nature.
Please enjoy the soft water to your heart's content in the tranquility.

| | |
| --- | --- |
| Open Hours | You can take a bath after check-in*Men and women are replaced from 9:00 |

Resting place after the bath

Vending machines and cold barley tea are available.

Petit lounge

While looking at the picture of Mr Tsurutaro Kataoka's starry sky, while looking at the flowers outside the window.
You can enjoy coffee etc. freely.

Smoking Room

Rooms are non-smoking.
For smoking, please use the smoking room on the right side in front of the large communal bath.
Smoking is allowed on the deck of the two separate rooms (two rooms with an open-air bath).

| | |
| --- | --- |
| Open Hours | From 6:30 to 22:00 |
About Hoshigaoka Sanso
Number of rooms

10 rooms in total:10 Japanese-style rooms

Standard room facilities

All rooms bath and toilet/All rooms are air-conditioned/TV set/Empty fridge

Internet related

All rooms are available
[Connection method]Wifi
[PC rental]No
[Internet connection]Free

Amenities

Hand towel/Toothbrush / Toothpaste/bath towel/shampoo/rinse/Body soap/yukata/Duvet/Shaving/Shower toilet/Shower cap/Cotton swab/Comb / Brush

Outline of facility

No-smoking room

Locally available credit card

Visa / Master

Standard check-in time

14:00

Standard check-out time

11:00

Cancellation provisions

4 days to 1 day ago:20% of room rate
On the day of arrival:50% of room rate
Cancellation without any contact:100% of room rate
*If there is a cancellation policy set for each accommodation plan

Parking

20 passenger cars(Free)
About hot springs
Hot Springs

Shiriyaki Onsen (100% natural hot spring)*Does not include artificial hot springs

Open Air Bath

Yes (both men and women (including time change), cannot be reserved)

Private Bath

Currently not available.

Number of baths

[Open-air bath]Man:1 woman:1 Mixed bathing:0
[Indoor bath]Man:1 woman:1 Mixed bathing:0
[Sauna]Man:0 woman:0 mixed bathing:0

Hot spring tax

Hot spring tax Adults 150 yen will be charged separately.